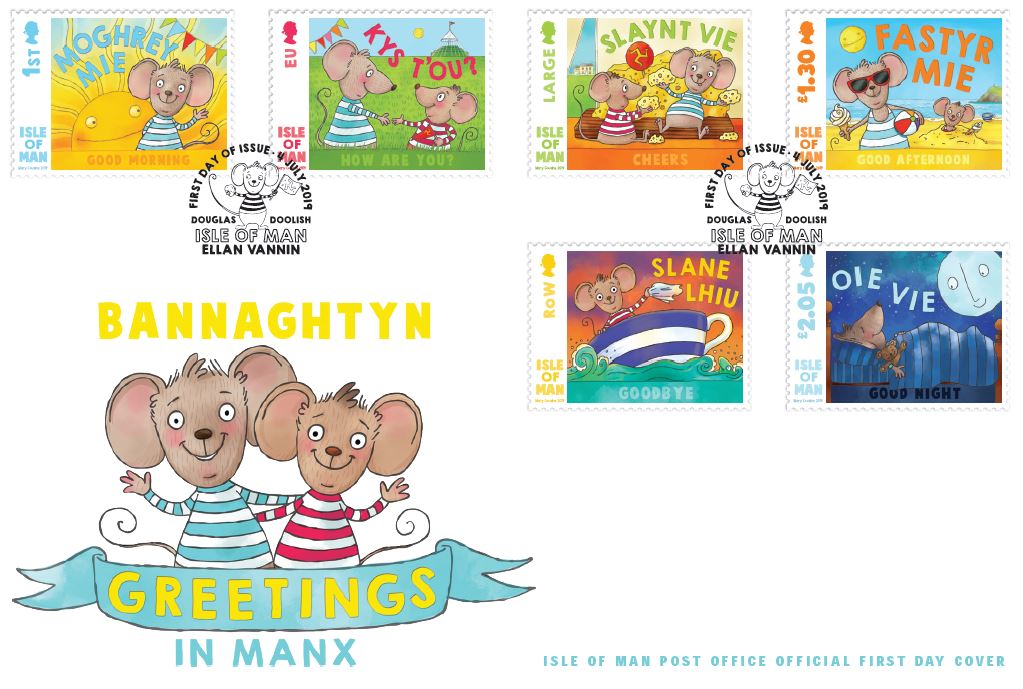 In early 2018 the Isle of Man was awarded UNESCO Biosphere status and as part of our pledge to support and promote our cultural heritage and engage with the local community we have worked with Culture Vannin and local artist Mary Cousins to develop a stamp issue that encourages the use of the Manx language in this UN Year of Indiginous Languages.
The issue will be launched the day before our Tynwald Day, our national celebration day, when we celebrate our parliament being the oldest continous parliament in the world.
This set of six stamps feature Manx language greetings with the English translation along with local landmarks and activities, all original artwork from Mary Cousins. The text is from Culture Vannin who support and promote Manx language and culture.
The simple greetings were selected by Culture Vannin and the visual storyline represents a day in
the life of Manx Mouse. Text content from Culture Vannin about the Manx language will
complement the collection along with a selection of other basic phrases.
Culture Vannin have previously commissioned Mary Cousins to provide accessibly friendly
artwork and a picture book featuring the character Manx Mouse is planned as a collaborative
project to be published later this year.
Moghrey Mie (Good morning) – greeting the day.
Kys T'ou? (How are you?) – meeting a friend at Tynwald Fair.
Slaynt Vie – (Cheers) – tasting fine Manx produce.
Fastyr Mie – (Good afternoon) – a sunny afternoon at Port Erin beach.
Slaine Lhiu – (Goodbye) – the friend returning home.
Oie Vie – (Goodnight) – falling asleep.