The National Conference is focused on initiating a conversation about the importance of protecting the indigenous languages and generating recomendations for the development of a national road map and action plan focused on the preservation, promotion of and use of the languages. The event will place emphasis on bilingual education, access to information, the use of technology. The importance of developing measures and policies which will encourage young people to take interest in learning the languages will be one of the key elements in these discussions.
Eluned Morgan AM, the Minister for International Relations and Welsh Language, will make a statement in the National Assembly for Wales on how Wales is marking the UN International Year of Indigenous Languages. Bydd Eluned Morgan AC, Gweinidog y Gymraeg a Chysylltiadau Rhyngwladol, yn rhoi datganiad i'r Cynulliad Cenedlaethol ar sut y mae Cymru yn […]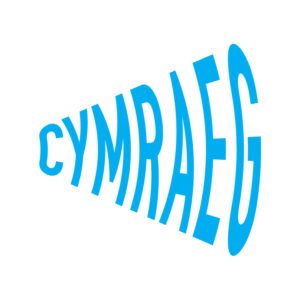 Le festival éco-mobilisation revient en 2019 pour aborder la thématique : « L'Amazonie, ou le déracinement du monde ».Il se déroulera du 5 au 8 septembre 2019 à Bordeaux au sein de l'écosystème Darwin.Ce festival à la programmation hybride, qui combine arts, musiques et sciences, accueille chaque année des experts, des personnalités de renom au sein d'un cycle de conférences parrainé par des ONG phares et des grands témoins.
The Indigenous Fellowship Programme was launched in 1997 by the Office of the High Commissioner for Human Rights (OHCHR) in the context of the first International Decade of the World's Indigenous People. The aim of the programme is to give indigenous persons the opportunity to gain knowledge on the UN system and mechanisms dealing with human rights issues in general and indigenous issues in particular. Trained participants are better equipped to assist their organisations and communities in protecting and promoting their rights. This training programme is available in 4 languages: English, Spanish, French and Russian.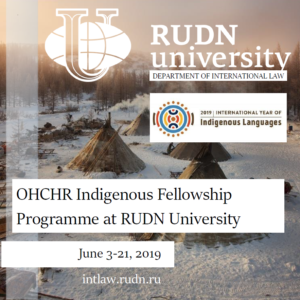 Dans le cadre de l'Année internationale des langues autochtones lancée par l'UNESCO, Le festival propose  une  conférence sur « Les langues autochtones, musiques et danses traditionnelles au sein des performances interculturelles »  organisée conjointement par le Dr Vikrant Kishore (Université Deakin, Australie), Etienne Rougier (Université de Montréal, Canada) et l'Association Nationale Cultures du Monde.As part of the International Year of Indigenous Languages launched by UNESCO, the festival offers a conference on "Indigenous languages, music and traditional dance within intercultural performances" jointly organized by Dr. Vikrant Kishore (Deakin University, Australia) ), Etienne Rougier (University of Montreal, Canada) and the Association Nationale des Cultures du Monde."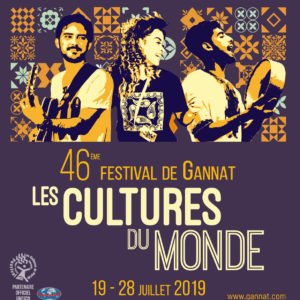 La Asamblea General de las Naciones Unidas proclamó al 2019 Año Internacional de las Lenguas Indígenas. El Estado Intercultural y Plurinacional del Ecuador cuenta con 14 nacionalidades y 18 pueblos originarios; cada nacionalidad posee una lengua propia. CORAPE a través de sus medios afiliados impulsa la Campaña: Conversemos en Nuestro Idioma Ñukanchik Shimipi Rimashun, que […]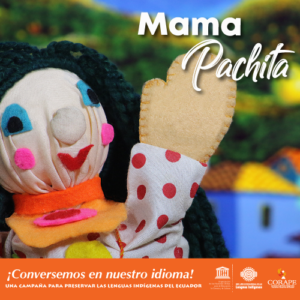 03.06.2019 - 14.06.2019
Global / / Global
International Year of Indigenous Languages 2019 Dedicated Website
Los países de América Latina y el Caribe, junto con la UNESCO, lanzan un Festival de Cine Indígena en Línea (OIFF) en el marco del Año Internacional de las Lenguas Indígenas 2019 (AIL2019) y de la próxima Semana de América Latina y el Caribe, que tendrá lugar del 3 al 7 de junio de 2019 en la Sede de la UNESCO (París, Francia).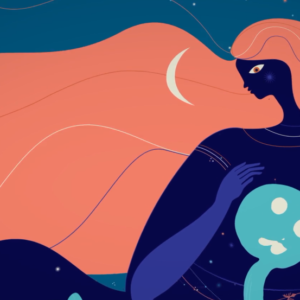 Scroll