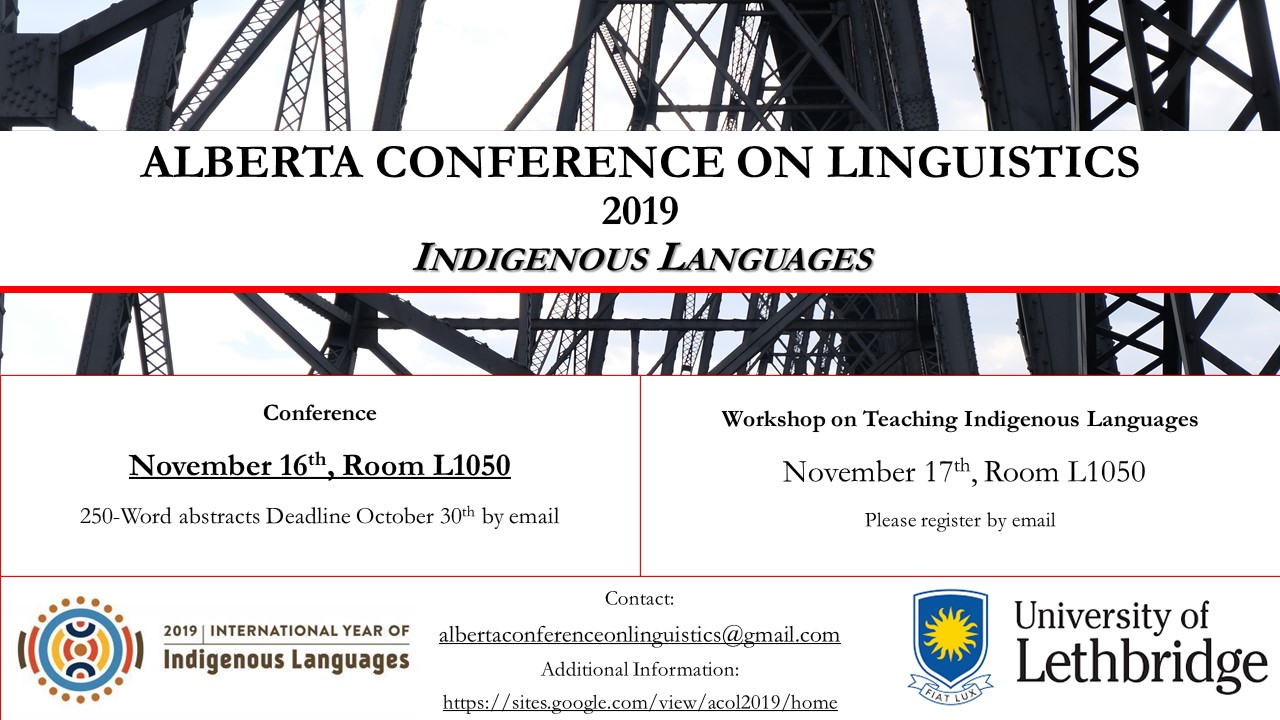 The event is the  Alberta Conference On Linguistics 2019 (ACOL 2019) hosted by the Department of Indigenous Studies and the Department of Modern Languages and Linguistics at the University of Lethbridge on November 16th.
The theme of this year's conference is Indigenous Languages, focusing on languages of Alberta and Montana, but open to linguistic and anthropological papers on Indigenous languages from across the globe.
Since this is the International Year of Indigenous Languages, we would particularly like to encourage contributions regarding Indigenous languages from linguists and linguistic anthropologists. However, we welcome contributions from any area of linguistics.
Please send a 250-word abstract for a poster or a talk to albertaconferenceonlinguistics@gmail.com by October 30th.
Our keynote speaker will be Mike Bruisedhead (Kainai Nation / University of Lethbridge).
In addition to the conference, we will also be hosting a workshop Teaching Indigenous Languages on November 17th. This workshop is specifically targeted to teachers of under-resourced languages. Two topics will form the focus of the workshop: 1) Teaching Indigenous languages through stories, and 2) Establishing networks among language teachers. All are welcome; there is no cost. Please notify us of your interest in attending by sending an email to albertaconferenceonlinguistics@gmail.com before October 30th.
Additional information will be posted on: