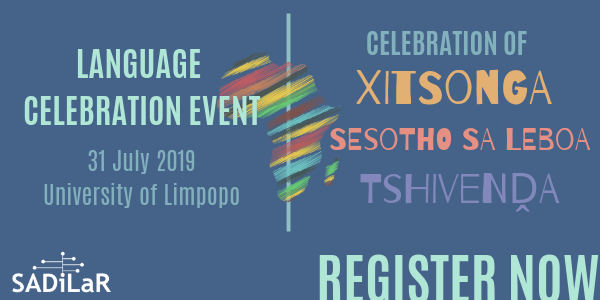 As part of UNESCO's 2019 International Year of Indigenous Languages (IYIL2019), SADiLaR is celebrating the 11 official languages of South Africa by assigning each language to a month of the year. SADiLaR is excited to announce that we will be hosting a joint language celebration event for Sesotho sa Leboa, Tshivenḓa and Xitsonga on 31 July 2019 at the University of Limpopo. The event is all about the celebration of language, heritage and culture.
AIM OF EVENT
The aim of the event is to get language experts, students and lecturers together to talk about the languages. They will touch on the history, development and the future of the language. It is an event that offers space to learn and to appreciate all of these languages as official language of South Africa. We will also touch on some issues that we face in terms of development of the languages, and come up with some ideas on how we can work together to create a digital footprint for these languages and preserve the languages for future generations.
EVENT PROGRAMME
The event will start off with an opening and welcoming session in one big venue at the University of Limpopo.
Thereafter we will split into three venues, where the separate sessions will be held for Sesotho sa Leboa, Tshivenḓa and Xitsonga.
We will provide participants with lunch during the break.
The last session of the day will include entertainment, and SADiLaR will present awards to individuals who have contributed to the languages in a very profound way.
The final programme with details of speakers will be shared with everyone who registered and will be posted on SADiLaR's social media pages.
PARTICIPANTS WHO WOULD BE INTERESTED IN EVENT
Students, lecturers, language practitioners. Anyone interested in preserving and developing the Sesotho sa Leboa, Tshivenḓa or Xitsonga languages.
Participation in the workshop is FREE.
Number of attendees that can be accommodated: 100 per language. As soon as the maximum capacity has been reached, the registration for that language will close.
Coffee/tea/refreshments will be provided.
REGISTER
Please register on or before 20 July 2019
If you have any questions, please liaise with the following SADiLaR team members: