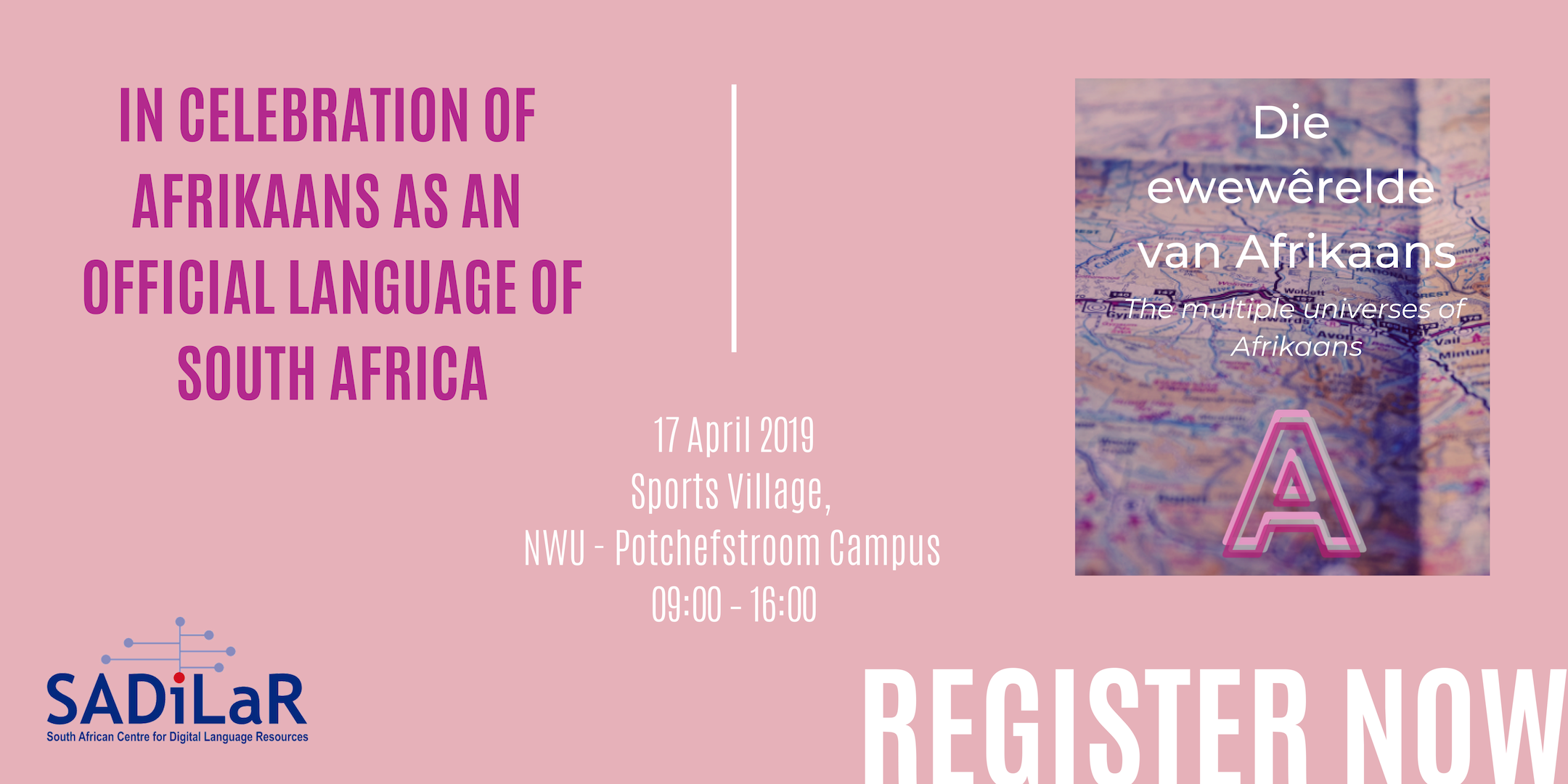 The United Nations has declared 2019 as the International Year of Indigenous Languages (IY2019), in order to celebrate these languages and their values. The South African Centre for Digital Language Resources (SADiLaR) has decided to support this initiative, and we look forward to the year ahead. SADiLaR's main objective entails the development of South African languages by collecting both language and computational resources, in order to make our indigenous languages part of the digital era. IY2019 provides the ideal opportunity for SADiLaR to raise awareness of the use and development of all the official languages of South Africa.
PURPOSE OF THE WORKSHOP/CELEBRATION
To celebrate Afrikaans in all its diversity, and to create awareness about where Afrikaans has left its mark, and where Afrikaans may yet leave its mark.
PROGRAMME
09:00 – 09:30 Arrival and coffee
09:30 – 10:00 Benito Trollip: Welcome and introduction
10:00 – 11:00 Charl-Pierre Naudé: Die ongelooflike onskuld van Dirkie Verwey (The unbelievable innocence of Dirkie Verwey)
11:00 – 11:30 Coffee break
11:30 – 12:00 Quentin Williams: Van Kaaps to AfriKaaps: Hip-Hop-taalaktivisme en nierassistiese praktyke vandag (From Kaaps to Afrikaaps: Hip-Hop language activism and nonracist practices today)
12:00 – 12:30 Karien Brits: Afrikaanse trolle
12:30 – 13:00 Ernst Kotzé: Gebruiksdimensies van Afrikaans
13:00 – 14:00 Lunch
14:00 – 14:30 Gerhard van Huyssteen: Geskrewe Standaardafrikaans in die 21e eeu
14:30 – 15:00 Allison Geduld: Afrikaans as etiek
15:00 Benito Trollip: Conclusion, farewell and coffe
PEOPLE WHO MAY FIND THE WORKSHOP/CELEBRATION OF INTEREST
Anyone who is interested in the trials and triumphs of Afrikaans, and who would like to listen to initiatives from the mouths (so to speak) of Afrikaans-speaking individuals, are welcome.
THEMES OF THE WORKSHOP/CELEBRATION
Literature, linguistics, digital humanities, Kaaps, equivalent worlds, promotion of Afrikaans
ADDITIONAL INFORMATION
Participation in the workshop is FREE.
Number of participants that can be accommodated: 50–70 (maximum)
Coffee, tea, refreshments, and lunch will be provided.