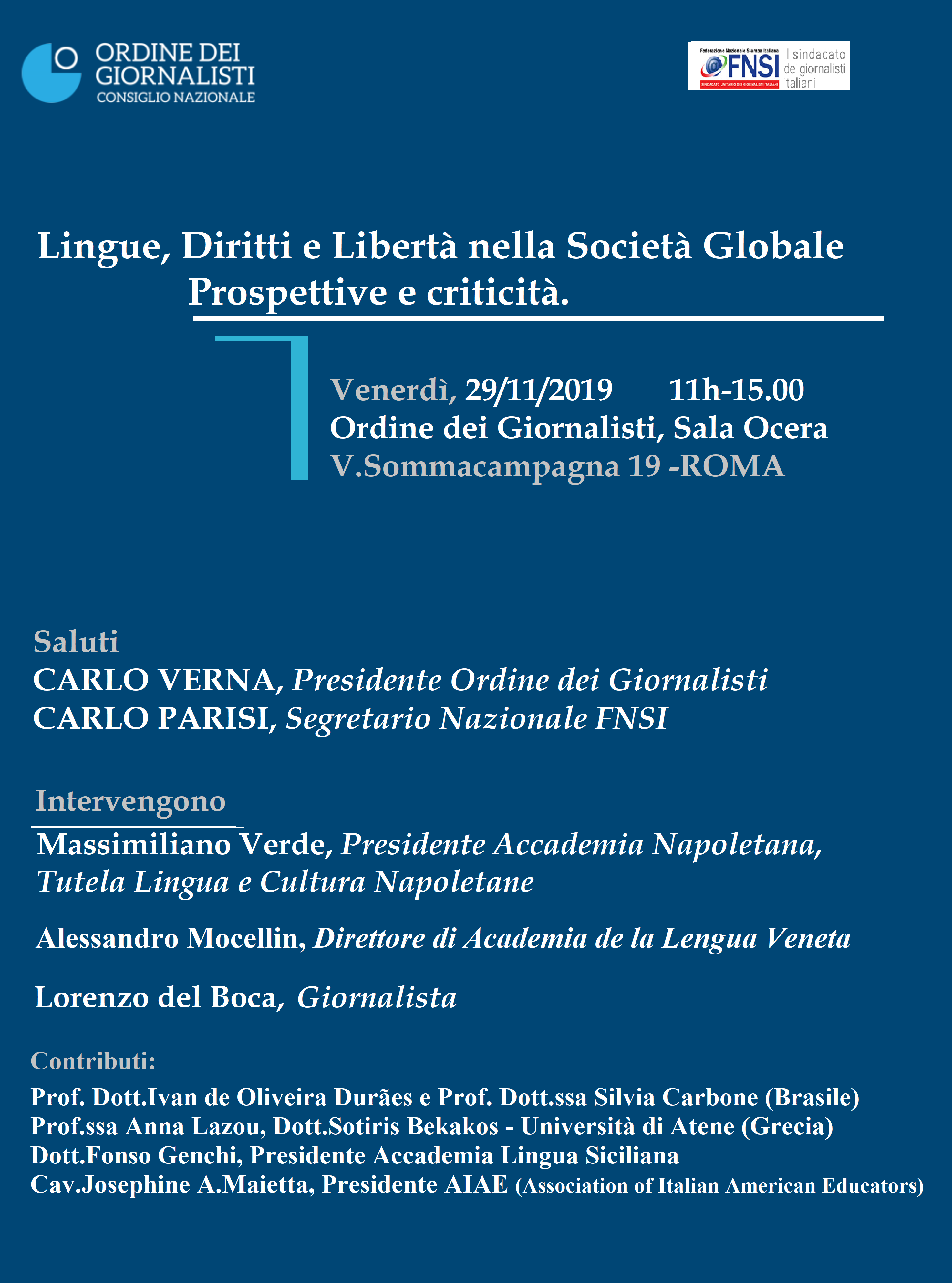 ON THE OCCASION OF THE IYIL 2019, THE NEAPOLITAN ACADEMY TO PRESERVE AND TEACH NEAPOLITAN LANGUAGE AND HERITAGE, PRESIDED BY DR.MASSIMILIANO VERDE PROPOSES A SYMPOSIUM ABOUT LANGUAGES RIGHTS IN THE GLOBAL SOCIETY.
THE EVENT IS HOSTED BY THE
NATIONAL COUNCIL OF THE ORDER OF JOURNALISTS AND SPONSORED BY THE FNSI (NATIONAL FEDERATION OF ITALIAN PRESS LABOR UNION (ITALY).
WE DISCUSS THE LACK OF LEGAL PRESERVATION OF REGIONAL LANGUAGES  IN ITALY LIKE VENETIAN, SICILIAN, NEAPOLITAN AND ABOUT THE ACTUAL SITUATION OF NEAPOLITAN MOTHER LANGUAGE CHILDREN VERSUS THE CONVENTION ON THE RIGHTS OF THE CHILD.
THE SYMPOSIUM IS ABOUT THE DIFFICULTIES TO PRESERVE MINORIZED LANGUAGES IN THE WORLD SUCH AS IN ITALY.
THE OCCASION TO SHOW THE WORK OF THE NEAPOLITAN ACADEMY AND THE ACADEMY OF VENETIAN LANGUAGE WITH AN AGREEMENT OF MUTUAL COOPERATION BETWEEN THEM.
NEAPOLITAN ACADEMY PROPOSES COOPERATIONS WITH ANY MINORIZED LANGUAGES IN ITALY AND AND ALL AROUND THE WORLD.