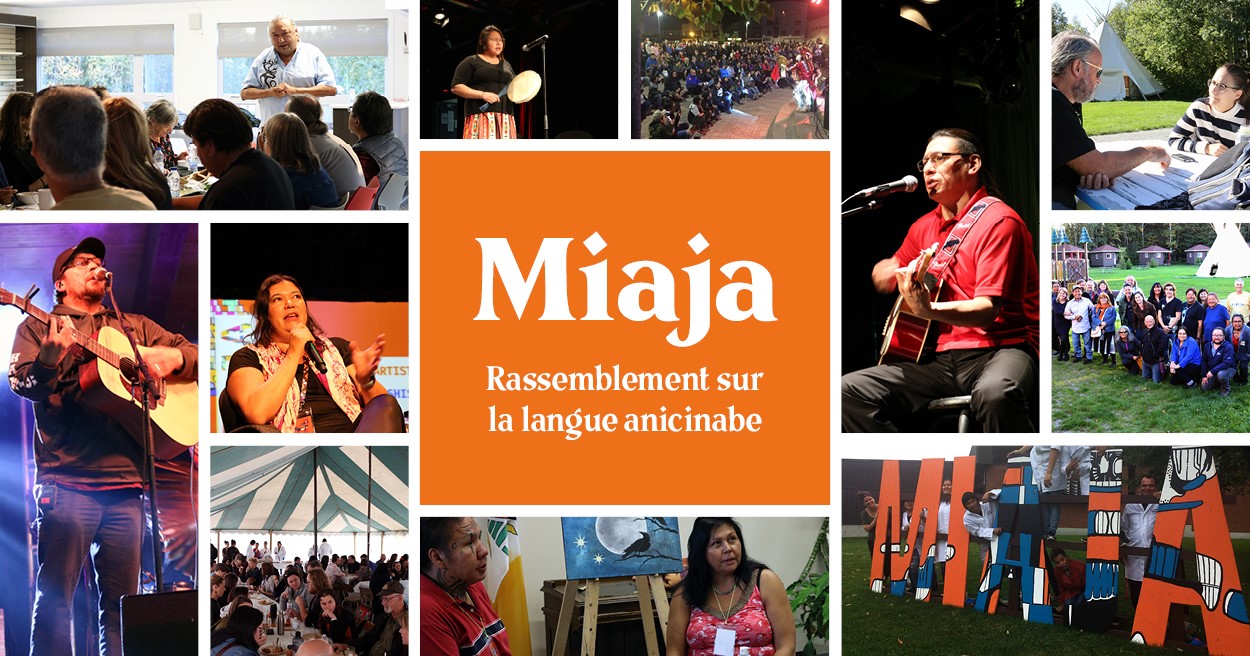 Honoring the Anicinabe language
The 2019 edition of Miaja will revolve around the theme of the Anicinabe language. While coinciding with UNESCO's International Year of Indigenous Languages, it is essentially because our language is in danger of becoming extinct that we chose to put it at the center of our celebrations. Oral tradition will be at the core of the event, and all participants will be invited to discover Anicinabe words through legends, stories, songs, slam and poetry.
In addition to providing the Anicinabe people with the opportunity to gather and shape a future true to their values, the second edition of Miaja will provide a forum conducive to forging links that transcend the language, cultural and temporal barriers that usually separate us. It will be a powerful means to learn more about one another and to create an oral tradition of our own, built with ideas, values and stories that will help us conceive a life together.
OBJECTIVES
Since its creation, Minwashin has sought to identify ways to enhance the Anicinable culture among the Aboriginal and non-Aboriginal communities living on the territory. Miaja provides a privileged occasion to collectively reflect on what actions to take to promote the Anicinabe identity, and to share views on the role it will be called upon to play in the social development of its territory.
Miaja aims at attaining the following objectives:
Creating links between Aboriginal artists from the seven communities in the territory.
Maintaining the dialogue on First Nations art and culture development.
Promoting and restoring traditional culture, and helping Anicinabe artists define themselves as contemporary artists and the heirs of a centuries-old tradition.
Providing Anicinabe artists with networking tools, and contributing to the enhancement of their professionalism through an art dissemination experience.
Contributing towards bringing peoples together by creating a positive, warm and engaging public event.
Reaching out to youth through trendy activities, and ensuring their presence through partnerships with educational bodies.
Artistic gatherings like Miaja serve to building constructive bridges among cultures and opening new paths to a more harmonious cohabitation for tomorrow. While long and complex, this process is crucial to break down prejudices, which are obstacles to the growth of our society.
_________________________________________________
Honorons la langue anicinabe
L'édition 2019 se fera sous le thème de la langue anicinabe. Ce thème coïncide avec l'Année internationale des langues autochtones déclarée par l'UNESCO, c'est avant tout parce que notre langue est menacée de s'éteindre que nous avons choisi de la placer au centre de nos célébrations. La tradition orale sera le noyau de notre événement, et tous les participants seront invités à découvrir les mots anicinabek au son des contes, des chants, du slam et de la poésie qui leur seront présentés.
En plus d'offrir aux Anicinabek une occasion de se rassembler et de tricoter un avenir à leurs couleurs, notre évènement permettra à tous de tisser des liens au-delà des barrières langagières, culturelles et temporelles qui nous séparent habituellement. Nous y voyons un moyen fort d'en apprendre les uns sur les autres et de créer une tradition orale bien à nous, faite d'idées, de valeurs et de récits qui nous aideront à penser une vie tous ensemble.
OBJECTIFS
Depuis sa fondation, Minwashin cherche à identifier des moyens pour mettre en valeur la culture anicinabe dans toutes les communautés autochtones et allochtones vivant sur le territoire. Le rassemblement Miaja est une occasion privilégiée de réfléchir collectivement sur les actions à entreprendre pour revaloriser l'identité anicinabe et d'échanger sur le rôle que celle-ci sera appelée à jouer dans le développement social de son territoire.
Miaja vise à atteindre les objectifs suivants :
Créer des liens entre les artistes autochtones des sept communautés du territoire ;
Maintenir le dialogue sur le développement des arts et de la culture des Premières Nations ;
Revaloriser la culture traditionnelle et aider les artistes anicinabek à se définir tant comme artistes contemporains que comme héritiers d'une tradition ancestrale ;
Doter les artistes anicinabek d'outils de réseautage et de contribuer à leur professionnalisation en leur offrant une expérience de diffusion ;
Contribuer au rapprochement des peuples en créant un événement public à l'ambiance positive et chaleureuse qui nous interpelle tous ;
Rejoindre la jeunesse par des activités au goût du jour et assurer leur présence par des partenariats avec les milieux scolaires.
Les rassemblements artistiques tels que Miaja permettent de tisser des liens constructifs entre les cultures et de mieux conjuguer le vivre ensemble de demain. Il s'agit d'un processus long et complexe, mais primordial pour faire tomber les préjugés qui entravent la croissance de notre société.