19.09.2018 - 10.10.2018
Asia y el pacifico / / Port Vila
Fondation Suzanne Bastien
Remix is a word used in many contexts. You might think of it in relation to music – the digital remix of one song to make another, or as the kind of fusion of foods and flavours in contemporary cooking that Mars Melto describes.
04.10.2018 - 05.10.2018
Europa y America del Norte / / Petrozavodsk
Hotel Piter Inn
The workshop aims at finding connections between international standards and processes and grassroots efforts to realize indigenous peoples' rights at the level of indigenous peoples' settlements and communities. The experts and participants will share their experience and best practices as well as elaborate proposals for effective implementation of the ideas of the International Year of Indigenous Languages at the local level.
19.09.2018 - 21.09.2018
Global / / Changsha
Hunan University, Changsha, Hunan, People's Republic of China
The purpose of the International conference entitled "Role of linguistic diversity in building a global community with shared future: protection, access and promotion to global language resources" is to discuss the broad areas of language-related issues, with special attention to the language protection, access to language resources and promotion of emerging initiatives in Asia-Pacific region as well as to contribute to the organization of the 2019 International Year of Indigenous Languages and further development of UNESCO's World Atlas of Languages.
24.08.2018 - 02.09.2018
Europa y America del Norte / / Anapa
Sanatorium Chernomorskaya Zor'ka
"Talents of the Arctic. Children" is an international cultural and educational project for children of secondary school age (10–15 years old), implemented within the framework of the International project "Children of the Arctic ", a group for sustainable development under the Arctic Council. The initiator of the project and the organizer is the Association of Сultural Figures for the Support and Development of Talented Youth (Association "Talented Youth"). The objective of the project is to provide comprehensive support aimed at preserving and promoting cultural values, traditional lifestyles and, above all, the national languages of indigenous peoples. Special attention is paid to the acquisition of new knowledge and the development of skills among talented children - representatives of the small indigenous peoples of the Russian Federation.
03.07.2018 - 05.07.2018
América latina y Caribe / / Asunción
Asunción
On 3 July 2018, the International Seminar "Empowerment of speakers of the local language, communities and nations" was opened in Asunción, Paraguay. The opening session was attended by high-level representatives of the national and regional authorities, and UNESCO representative, who jointly acknowledged the importance of languages for creating truly inclusive societies for all citizens.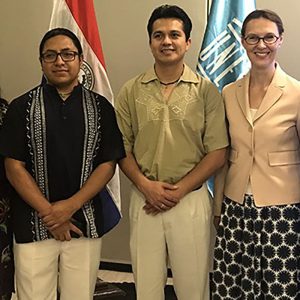 Scroll