Within the context of this year's Sommerfest at TU Dortmund (4th of July 2019) the university library invites native and heritage speakers of indigenous languages and rare dialects to tell or sign stories and subsequently explain their significance and meaning to the audience in German or English.Through academic posters and language activities the researchers will engage both the students and staff of TU Dortmund University and visitors.
Approximately 80% of living languages in Malaysia are indigenous languages, with many of them in danger of disappearing soon. In conjunction with the International Year of Indigenous Languages 2019 (IYIL2019), an exhibition, Voices of the People: An Exhibition of Indigenous Languages in Malaysia, will be held at the Centre for Malaysian Indigenous Studies (CMIS). The exhibition is being jointly organised by CMIS and the Faculty of Languages and Linguistics University of Malaya (UM). The exhibition aims to create awareness of the linguistic and cultural diversity of the indigenous people in Malaysia through curated audio and video recordings featuring stories from different indigenous communities. A range of activities will be carried out during the three and a half week long exhibition. These include performances, talks and workshops by indigenous communities. The exhibition, which is open to the public, also aims to share research and community engagement projects carried out by researchers at UM.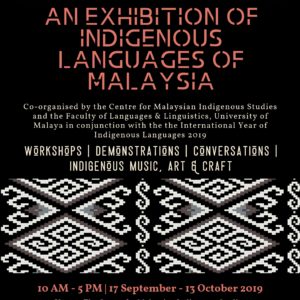 22 февраля Центр культуры и досуга села Зилаир стал главной площадкой проведения  I Всероссийского фестиваля «Культура коренных народов мира», посвященного Международному году языков коренных народов с участием Ассоциированных школ ЮНЕСКО, кафедр ЮНЕСКО, клубов друзей ЮНЕСКО и других образовательных учреждений.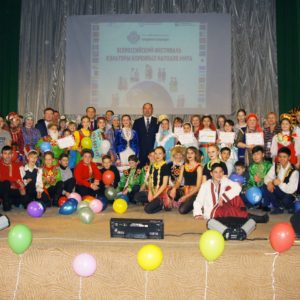 Melange – International Year of Indigenous Languages is a one day symposium on the theme on 29th June 2019 at Hotel Surya New Delhi. The Symposium will have four sessions including Inaugural Session and other technical sessions on different aspects of Indigenous Languages of India. The sessions will be Chaired and attended by experts from different organizations including those from United Nations , Academic and Cultural Institutions and those from the Government of India. The components of the event consists of a broad based overview of the theme with related sub themes. Event is designed in such a way that ensures the promotion and outreach of the theme in accordance with the desired outcomes of the United Nations' Action Plan on the theme.The objective is to promote, preserve and conserve languages which have or are on the verge of losing their existence. This theme has been relevant to India which as per the latest Language Census has around 19,500 indigenous languages, dialects and many more oral traditions. In accordance with the objectives of the United Nations' Action Plan on the mentioned theme, we seek to implement the objectives of the theme. We propose a round the year Calendar of Activities in select places of India. As the first step towards this line we are organising a Symposium on the theme . In the symposium various sessions will be held which includes inviting a delegate from the United Nations as speaker and various renowned speakers from the concerned field.
The degree of Intercultural Bilingual Education at Universidad Nacional de Educación del Ecuador UNAE, the National Council on the Equality of Peoples and Nationalities, the Secretariat of the Intercultural Bilingual Education System (SEIB), the Secretariat for the Higher Education, Sciences, Technologies and Innovation (SENESCYT), Universidad de Cuenca, the Interculturality Lab of the Latino American Faculty of […]
The IV Conferences of Communitary Communication organized by CORAPE in defense of life of the indigenous languages aim to encourage a space for the reflection, dialogue, interaction and training for community communicators, popular communicators, organizations, civil society and media. On this occation the event will focus on the objective of sensitizing public opinion on the […]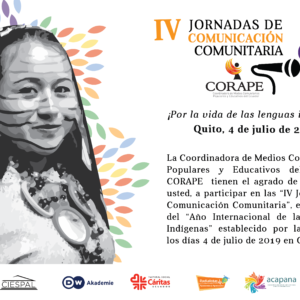 The UNESCO Office in Quito and Representation for Bolivia, Colombia, Ecuador and Venezuela has organized and coordinated three former editions of the Andean Meeting on Culture of Peace. This IV edition aims to make special emphasis to the contribution of the indigenous languages to the building of peace through the education in native language and […]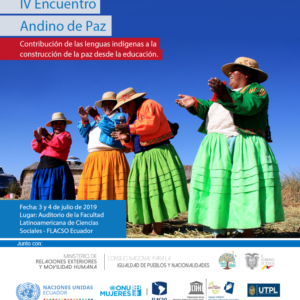 Scroll