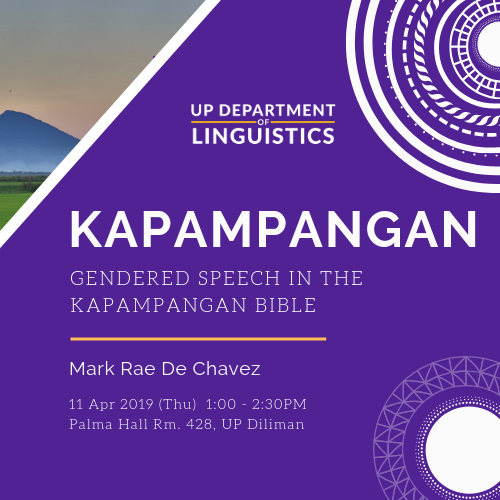 In celebration of the 2019 International Year of Indigenous Languages, the University of the Philippines Diliman Department of Linguistics is holding monthly public lectures based on recent studies conducted by its faculty members on different Philippine languages.
The fourth installment of our Philippine Indigenous Languages Lecture Series (#UPLingPILLS) will be presented by Prof. Mark De Chavez.
His study looks at the lexical collocations related to male and female references in the Kapampangan version of the Bible. It aims to discuss the characteristics of gender differentiation as presented in a textual corpus.
The lecture will be held on 11 April 2019 (Thursday) from 1:00 – 2:30PM at the Palma Hall Rm. 428.
This lecture is free and open to the public.
Certificates of attendance may be issued upon request.
For more information about this and the succeeding #UPLingPILLS, you can send us an email at lingg@kssp.upd.edu.ph.
(Photo of Mt. Arayat, Pampanga from www.juan-day.com)