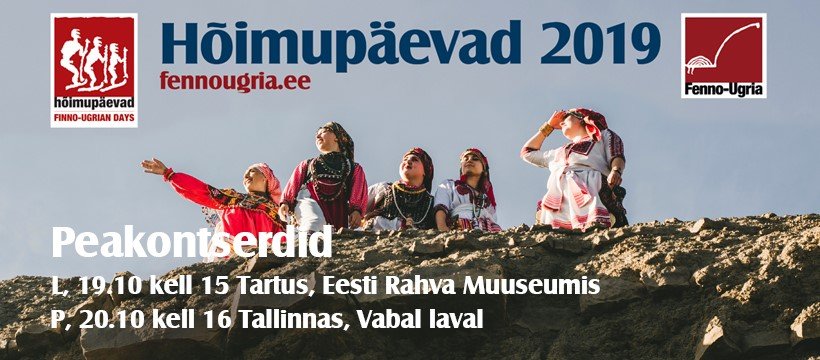 THE MAIN CONCERT OF FINNO-UGRIAN DAYS IN TALLINN
Sun the 20th of October 2019,
16:00 – 18:30 folk music concert with groups from Finno-Ugric countries
19:00 Sámi musician Wimme
Vaba Lava, Telliskivi Loomelinnak, Telliskivi 60a/9, Tallinn
Duration of the event: 4 hours, with 2 intermissions
How to get there: you will find instructions here.
Are on sale at Piletilevi here: https://bit.ly/2nOUAxv
Share the event on social media here https://www.facebook.com/events/2679547942108481/
The main concert of this year's Finno-Ugrian Days will take place on Sunday, the 20th of October at Vaba Lava (Free Stage). The doors will open at 15:00.
A genuine folk ensemble from Jugõdlan from the Komi Republic and beloved Mari folk musicians Jorga Katše and Polina Italjeva will be performing at the concert this year. The Udmurts are represented by a young versatile musician Šoner Paul (Pavel Aleksandrov) from Tatarstan. The concert will also feature a frequent guest of Estonian folklore festivals, Merema, a female ensemble introducing the polyphonic singing culture of Mordovia. Hungarian traditional folk music group Magos will perform in Tallinn with young and talented singer Bori Fekete. The voices of the Nordic tundra are conveyed to the listener by the legendary Sámi musician, Wimme from Finland, who is probably the best-known contemporary Sámi joik singer in the world. For the main concert in Tallinn, ten Estonian bagpipe players will represent Estonia. Also, all local societies of Finno-Ugric peoples will join the programme.
The Finno-Ugrian Days 2019 are dedicated to the United Nations' International Year of Indigenous Languages. Of the estimated 7,000 languages spoken around the world, 2,680 are in danger of disappearing. The fact that most of these are indigenous languages puts the cultures and knowledge systems to which they belong at risk. In addition, indigenous peoples are often isolated both politically and socially in the countries they live in; by the geographical location of their communities, their separate histories, cultures, languages, and traditions.
Discount ticket (student, elderly) 7€
People with special needs and their companion 5€
Children and youth up to 18 years get in for free
Tickets are on sale at Piletilevi and on location. Get your tickets HERE: https://bit.ly/2nOUAxv
This event is accessible with a wheelchair. Children are welcome!
At Vaba Lava, Estonian Finno-Ugric societies will also organise a fair. If you wish to buy pastries, pies and beautiful handicrafts, please bring cash.
Finno-Ugrian Days, which have been celebrated since 1928, have developed into one of the most important series of events that acquaint the wider public with Finno-Ugric peoples and strengthens the ties between them.
According to a decision made by the 4th Finno-Ugric Cultural Congress in Helsinki in 1931, Finno-Ugrian Days are held annually on the third weekend of October in Estonia, Finland, and Hungary. Over the last few years, Finno-Ugric events have also been organized at this time in Russia's Finno-Ugric regions.
In February 2011, the Riigikogu (Estonian parliament) approved a bill that deemed Finno-Ugrian Day a national day to be marked on the third Saturday of October. The Estonian flag is to be flown on that day.
In Estonia, one can attend concerts of Finno-Ugric music, films and literary events as part of the Finno-Ugrian Days organized by NGO Fenno-Ugria. Many musicians, writers, artists, and other guests from Russia's Finno-Ugric areas, as well as from Finland and Hungary visit these events. The main events of Finno-Ugrian Days are traditionally held in Tallinn and Tartu, but Finno-Ugric performers travel all across Estonia during this week of October, visiting schools and local cultural centers.
Please also take a look at the other events happening within this year's Finno-Ugrian Days here:
https://fennougria.ee/uritused/hoimupaevad/2019-2/programm/
View images from past events:
https://fennougria.ee/galerii/
Estonian Cultural Endowment, Kindred Peoples´ Programme of Ministry of Education and Science, Tallinn culture board, City of Tartu, The Hungarian Institute/Balassi Institute, NKA, The Finnish Embassy.
Estonian National Museum, Estonian Folklore Council, University of Tallinn, Baltic Film and Media School, Institute of Estonian Language, Estonian Writers´ Union, Chamber Musicians, Estonian Traditional Music Center, Toomteater
Finno-Ugrian Days belong to the list of CIOFF festivals. The Finno-Ugrian Days of 2019 are dedicated to the UN International Year of Indigenous Languages.
www.fennougria.ee/facebook
www.fennougria.ee/instagram