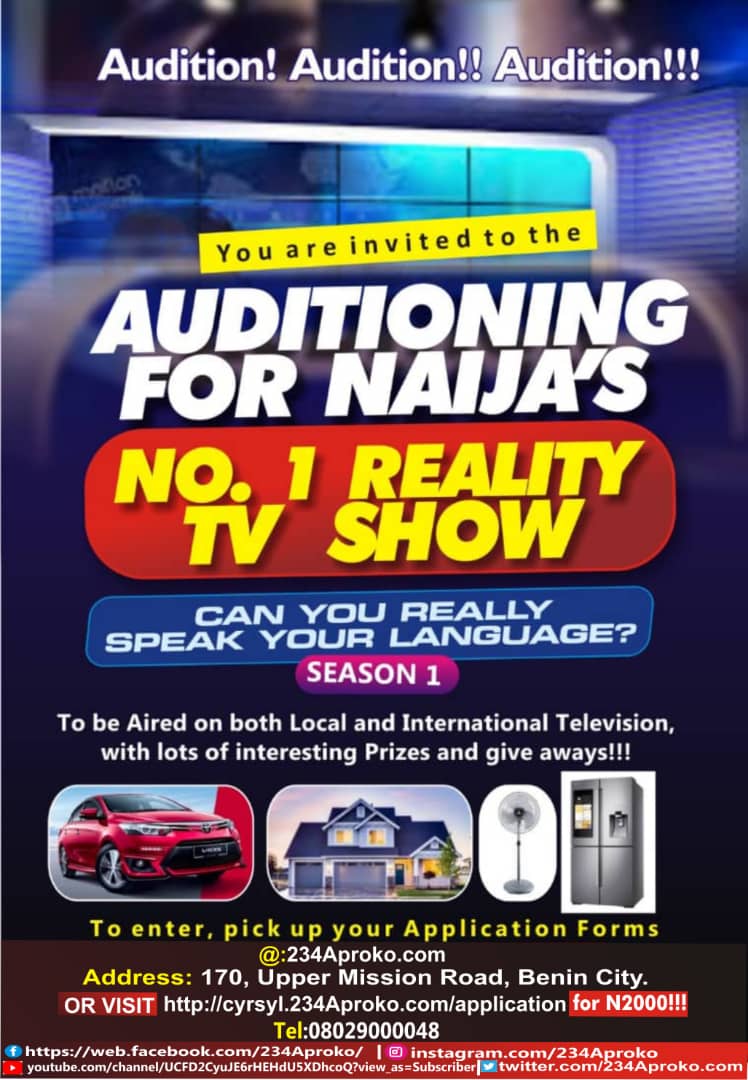 Show Synopsis
"Can You Really Speak Your Language?" is a Reality TV show that should re-define Television in Nigeria and hopefully shake her to the very foundation.
It is going to be a Family game show that would run for 53-weeks EVERY year (Season) broken down into 4 quarters of 13 Editions weekly.
There would be three (3) contestants (or families) representing different languages (or tribes) per Edition for at least the first Nine (9) Weeks in each quarter, which is essentially the preliminary round (or round 1). The next three (3) weeks pit the Nine (9) Winners of the preliminary round against each other in round two (2). The three finalists then face-off in the final or 13th week of the quarter to determine the winner for the quarter.
The above scenario is repeated for the next three (3) quarters, producing three (3) additional quarter winners along the way. The four (4) quarter winners face-off in the final Edition (or 53rd Week) to determine the Season Winner. This season finale would be taken LIVE!
Exciting gifts/prizes & Take-Aways would be the hallmark of this show as we set about instigating our people to start speaking our local languages once more.
In the show proper, there would be three (3) families in every edition representing their different Nigerian Languages, thirty (30) questions to be answered by the contestants (10 for each family except where there is a bonus or a tie at the end of each edition), a 3-member panel of judges (with each judge overseeing a language) and at least a 30-Man Audience of everyday people.
There would be controversies aplenty. Each contestant would be entitled to a Maximum of three (3) life lines in each round of every edition. The life lines are similar- whenever a contestant fails a question according to the decision of the relevant Judge, that contestant can Appeal the decision of the judge. Whenever an Appeal is "triggered" so to speak, the Audience becomes a superior body to the Judge and temporarily takes over proceedings until the Appeal, which is a 2-stage process is concluded.
In the first stage of the Appeal, the Audience in the Studio tries to establish authenticity of the claim of the dissenting contestant. If this stage fails, the contestant is deducted some marks (not more than 10) according to the discretion of the Audience. However, if the appeal scales the first stage, the second stage involves the broadcast of the oldest living person that can still speak the language very well in the town/village of the contestant to dispel the air once and for all. This stage is called "A View from the Top."