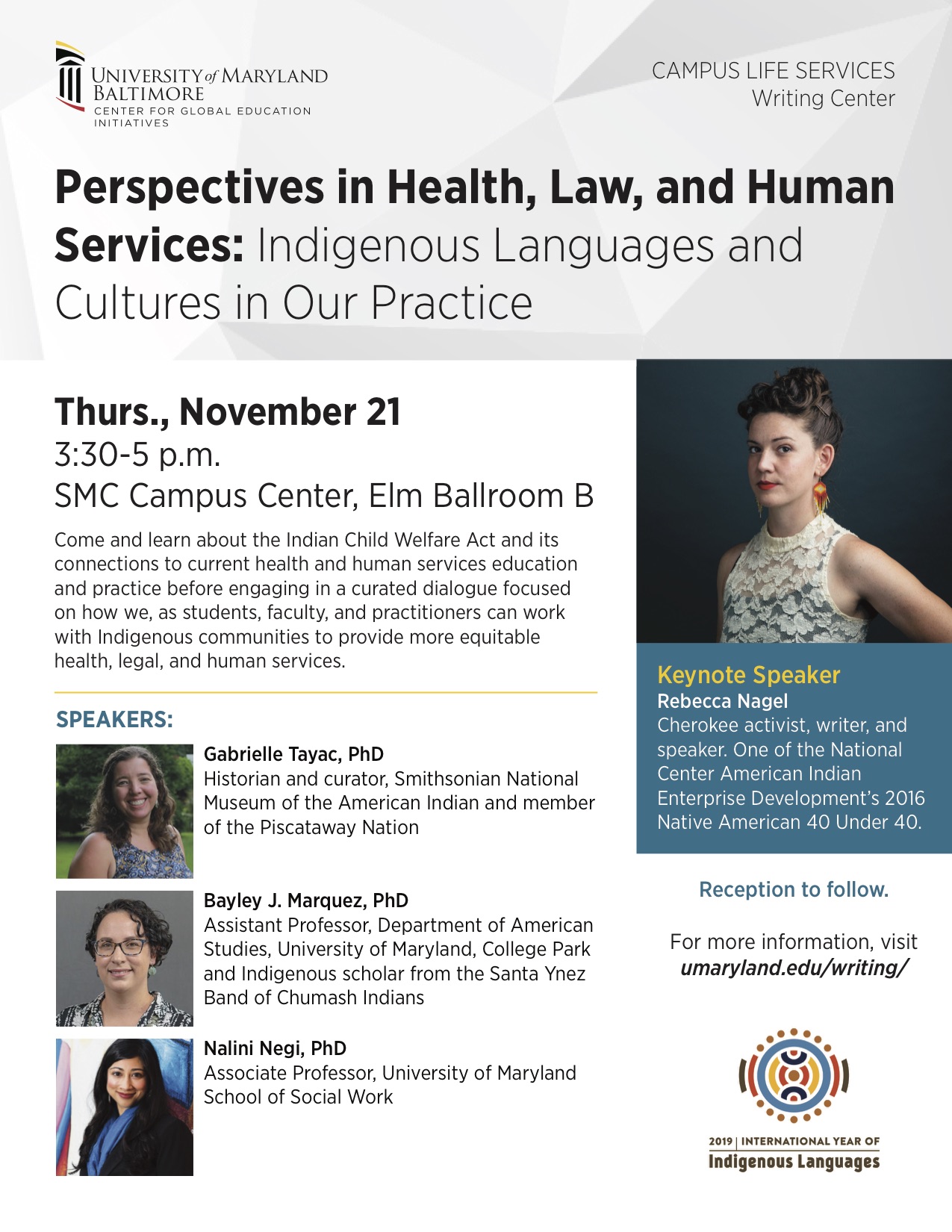 Description of the program 
The  The UMB Writing Center, Center for  Global Education Initiatives, and  Office of International Services  have officially joined the worldwide programming by creating a space and time at University of Maryland, Baltimore, for a discussion of decolonial perspectives and practices in health, law, and human services education. 
 The November 21 hour-long program will include keynote remarks on the United States Indian Child Welfare Act (ICWA) and its connections to current health and human services education and practice from Rebecca Nagel, Cherokee artist and activist. Then, the program will transition to a curated dialogue among her; Dr. Gabrielle Tayac, Piscataway Nation member and scholar-historian at the Smithsonian National Museum of the American Indian; Dr. Bayley J. Marquez, new College Park Assistant Professor of American Studies and Indigenous Scholar from the Santa Ynez Band of Chumash Indians; and Dr. Nalini Negi, Associate Professor in the University of Maryland, Baltimore, School of Social Work.   
 Central questions and aims 
We aim to engage our audience members, many of whom will be settler-colonialists studying medicine, law, social work, nursing, dentistry, and pharmacy, in perspectives around decolonial work, particularly how these approaches can resist neoliberalism and highlight the global realities we all must engage to solve problems in health, law, and human services (e.g., disease pandemics and other public health issues at home and worldwide; DNA testing, identity, and Nations' sovereignty; global transmission of Euro-Anglo settler-colonial understandings of science, education, law, health, and healing; domination of knowledge transmission by nationalized and imperialist languages like English that often dismiss, ignore, and suppress Indigenous languages and ways of knowing and doing science worldwide, etc.) 
For this program, focus on three key questions: 
What distinctly

Indigenous

practices (e.g., relationships with language, the land, and one another) shape health and healing?

 

How can sites of settler-colonialist graduate and professional education hold themselves answerable to these practices, histories, and communities?

 

How do we—in these systems—advocate with Indigenous people for what Scott Lyons (2000) calls "rhetorical sovereignty," a way of  

languaging

  

about and with Native Nations and communities that challenges "end narratives" (Dunbar-Ortiz, 2014), broadens understanding of Indigenous identities beyond essentializing

 stereotypes, and resists settler-colonialist and capitalist notions of health and human services?